We're not sure if you remember Giuseppe from our last release, but he's really on fire these days. He and his boys are en route to your hotel and are ready to part-ayyyy. 🎉 Are you ready for them? We think so. Check it out:
First things first - make sure you know when they arrive
You'll want to make sure your bar is fully stocked for these dudes. In our latest release, we've made it easier to see all your group bookings and filter them by date.
Be in the know - who's picking up the tab?
Giuseppe may have made the reservation, but there was one very important note attached - all expenses go to Philip! Now, you and your entire staff can keep track of those notes in your group bookings. The comment will also show within the details of each reservation tied to that booking. While we were at it, we also cleaned up the reservation screen to make the reservation comment a bit more prominent.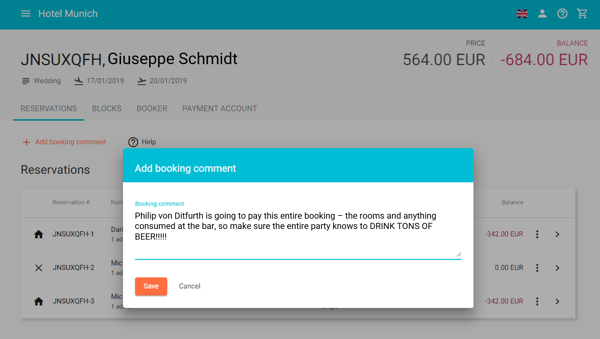 Dog ate the invoice?
Look, not all the guys were feeling in top shape when they checked out. Turns out, for some very strange reason the invoice didn't seem to make it back home with them. Need to print it again? Go for it. In the new Finance navigation...
you can now find your list of folios, making it simple to find invoices for printing, re-sending, or correcting.

Less clicking, more data
Giuseppe and his pals are great and all, but they aren't the only reservations you need to worry about. You've got a lot of guests on your hands! We've expanded your view so that the default reservation list size is now 50 rather than 20. So, less clicking around to keep track of all reservations.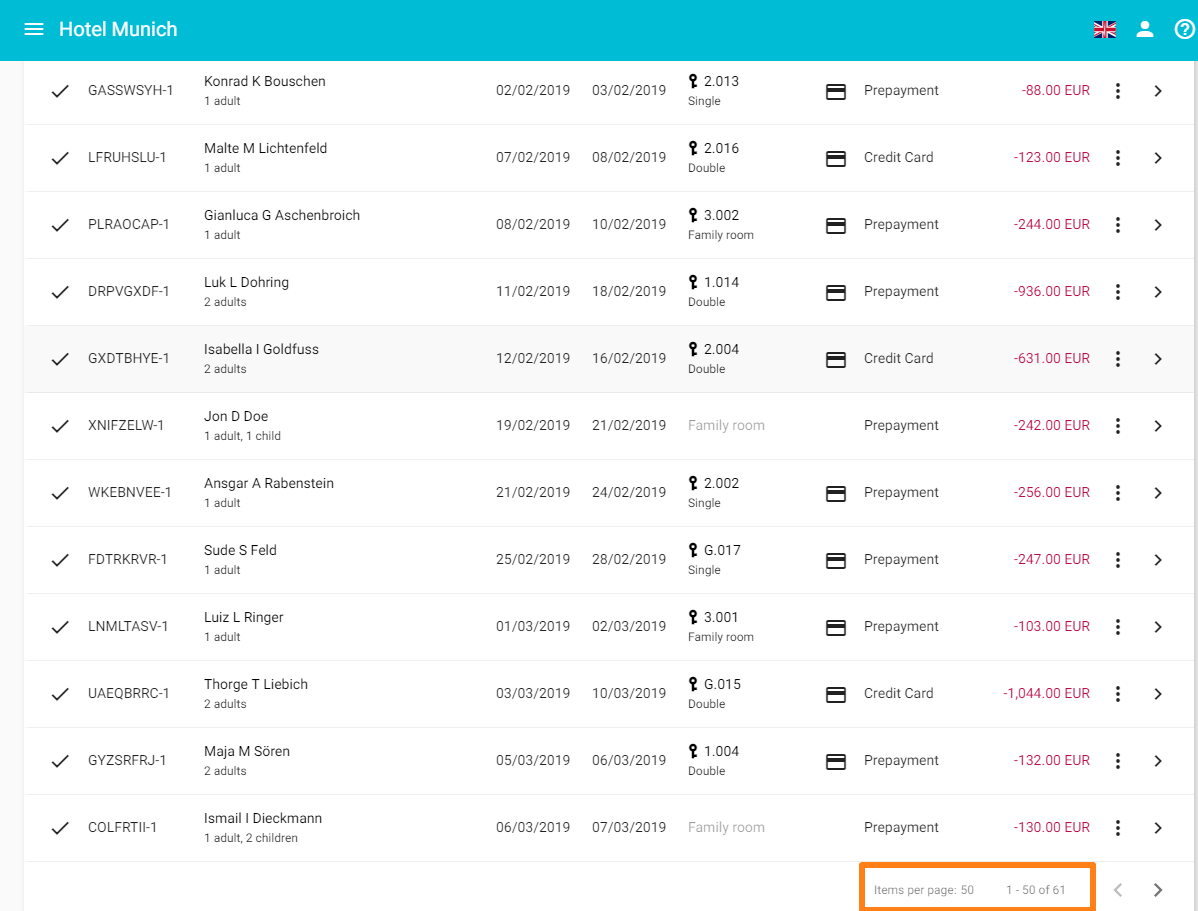 ---
Wer erinnert sich noch an Giuseppe aus unseren letzten Release Notes? Der geht jetzt richtig ab, und will FEIERN. 🎉 Er und seine Jungs sind auf dem Weg in Ihr Hotel. Bereit? Na klar!

Wann kommen die alle?
Wenn Giuseppes Jungs kommen, sollte auf jeden Fall die Bar voll sein. Um perfekt vorbereitet zu sein, sieht man jetzt in der Gruppenübersicht das Datum an dem der Erste der Gruppe ankommt, und wann der Letzte geht. Und man kann nach Datum filtern, falls sich so viele Gruppen angemeldet haben, dass es unübersichtlich wird.


Und wer soll das bezahlen?
Giuseppe hat zwar die Zimmer gebucht, aber Philip zahlt dieses Mal. Damit er sich im Urlaub entspannen kann, hat Giuseppe das gleich beim Reservieren klar gemacht. "Hey, Geld? Philip zahlt, Mann!". Sie und Ihr Team können den Kommentar jetzt auf der Gruppenbuchung, und bei jeder einzelnen Reservierung sehen. Vielleicht bekommt Philip ja ein Upgrade, wenn er schon bezahlen muss. Wo wir schon bei Kommentaren waren, haben wir sie auch gleich noch auf der Reservierung weiter nach oben geschoben. So sieht man sie schneller. Wo die ganzen anderen Infos hin sind? Die sind nach wie vor ganz oben zu sehen.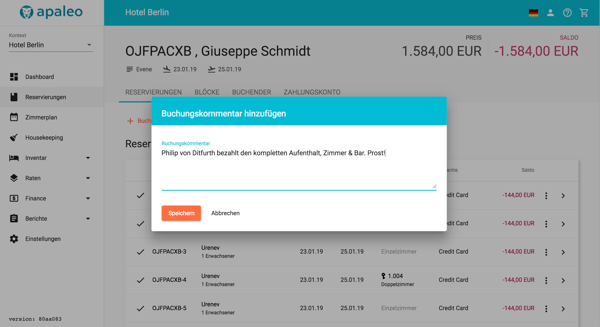 Der Hund hat meine Rechnung gefressen!
... entweder das, oder die Jungs waren dann vielleicht auch nicht ganz so fit beim Auschecken - auf jeden Fall ruft Philip ein paar Tage später an, und bräuchte dann bitte nochmal die Rechnung. Die ist jetzt einfacher zu finden.
Rechnungen haben jetzt ihre eigene Liste, und man kann nach Reservierungs- und Rechnungsnummer suchen. Mehr kommt bald!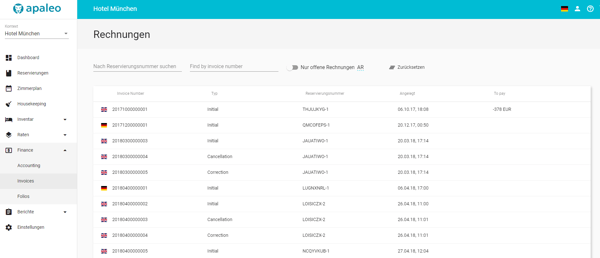 Alles auf einen Blick
Okay, Giuseppe ist zwar super, aber er und seine Kumpels sind nicht die einzigen Gäste. Es gibt eine ganze Menge anderer Reservierungen, um die man sich kümmern muss. Das geht jetzt mit weniger Klicks, weil apaleo seit dem letzten Release 50 statt vorher 20 Reservierungen auf einmal anzeigt.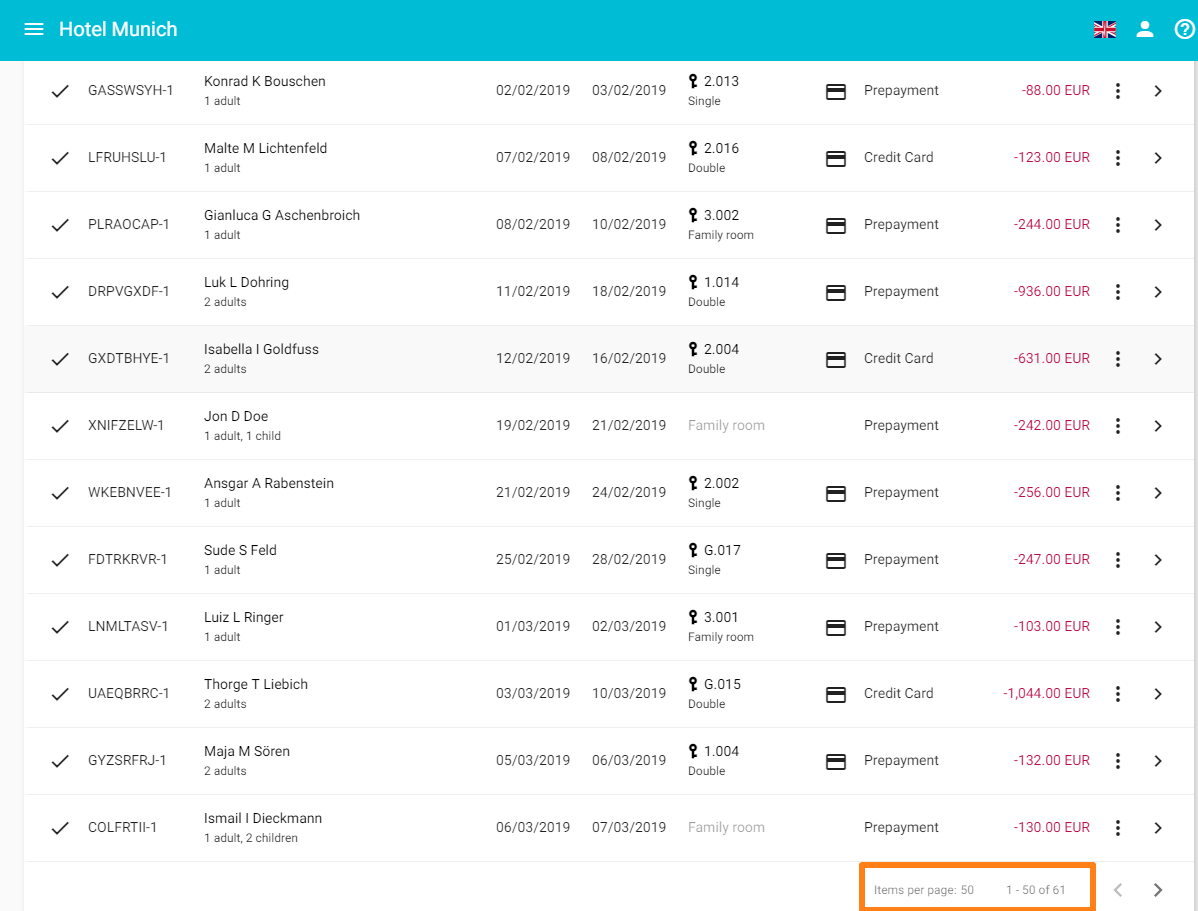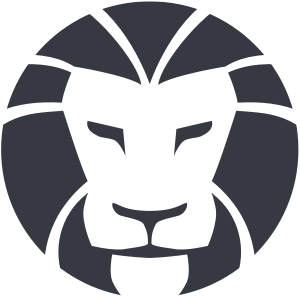 Posted by
Magical release note fairies
We are a little crew of product owners, developers and marketers who love writing release notes. Prior to writing release notes, we worked on developing sweet features that we think hotels will love. In our spare time, we like thinking of fun ways to share the news with hoteliers because we think that release notes should be fun to read. We hope you enjoy the notes as much as we love writing them!