Guests change their plans often. You know this better than anyone, with frequent requests to change arrival and departure dates. That's why we've made it as simple as possible for you to make the changes when you get them. While at it, we also improved reservation views to display all the information you need, right where you need it.
The new travel dates section in the reservation details shows all the info you need about a reservation in an improved and intuitive layout:
Quick view of general information, including number of guests, stay dates, the applicable cancellation policy and minimum guarantee

Calendar view of each booked night of the reservation, including the rate, rate plan and unit group

The assigned room for each night, highlighting if a unit from a different unit group is assigned

For inhouse reservations, a simple way to differentiate between past, ongoing and future time periods
To extend or shorten a reservation use the action buttons at the top to trigger the flow.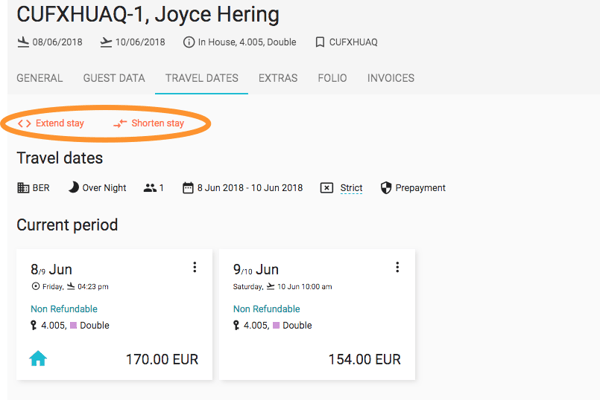 Extend the length of the stay
When your guest can't stand to part ways and requests a longer stay (or an early arrival), you can simply start the extend reservation flow. The days you can choose for the new arrival and departure are restricted based on the reservation status and current stay dates, making it impossible to make a mistake.

When extending, you don't have to stick to the rate plan of the original reservation. Choose a pre-set offer from a list of alternatives, and you will see a preview of the reservation after the changes would be applied. After confirming the selected offer the reservation will be extended and you are done!
Shorten the length of the stay
Shorting a reservation is even easier with the new flow. Select the new arrival and/or departure dates by clicking on the cards in the calendar view and confirm the changes.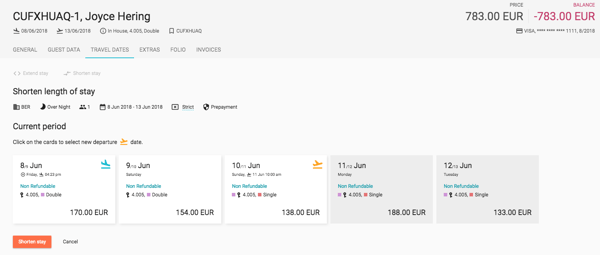 Manage Extra Services
To manage your extra services, we've introduced a new tab on the reservation details.
This allows you to book services globally for the whole reservation. It is the first version, and there is more to come in the next weeks.
What´s coming up next?
We aren't done yet! There are other things that you may want to amend for existing reservations. We're thinking upgrades to the unit group, changes in the number of people for which a reservation is made, the ability to check alternative prices so that you are always offering the best rate, and so on. Stay tuned for these details in our next release notes.
---
Gäste ändern ihre Pläne oft. Das wissen Sie besser als jeder andere, mit regelmäßigen Anfragen zur Änderung des An- und Abreisedatums. Deshalb haben wir es Ihnen so einfach wie möglich gemacht, die Änderungen vorzunehmen. Dabei haben wir auch die Darstellung der Aufenthaltsdetails verbessert und zeigen alle Informationen genau dort an, wo Sie sie benötigen.
Der neue Bereich Reisedaten in der Reservierungsansicht zeigt alle Details zum Aufenthalt in einem verbesserten und intuitiven Layout:
Schneller Überblick über die allgemeinen Informationen, einschließlich der Anzahl der Gäste, der Aufenthaltsdaten, der geltenden Stornierungsbedingungen und der Mindestgarantie.

Kalenderansicht jeder gebuchten Nacht der Reservierung, inklusive Preis, Rate und Zimmerkategorie

Die zugewiesene Einheit für jede Nacht, wobei hervorgehoben wird, ob eine Einheit aus einer anderen Kategorie zugeordnet ist.

Bei Reservierungen, die bereits im Haus sind, können Sie leicht zwischen vergangenen, laufenden und zukünftigen Zeiträumen unterscheiden.
Um eine Reservierung zu verlängern oder zu verkürzen, verwenden Sie die Action-Buttons, um den Prozess zu starten.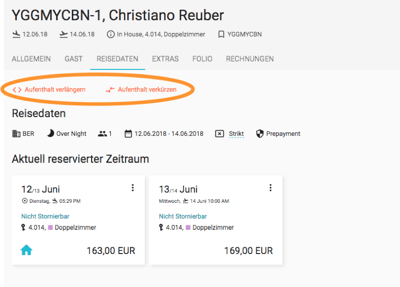 Den Aufenthalt verlängern
Wenn sich Ihr Gast nicht trennen kann und einen längeren Aufenthalt wünscht, starten Sie den Prozess zum Verlängern der Reservierung. Die Tage, die Sie für die neue An- und Abreise wählen können, sind abhängig vom Reservierungsstatus und den aktuellen Aufenthaltsdaten, so dass es unmöglich ist, falsche Eingaben zu machen.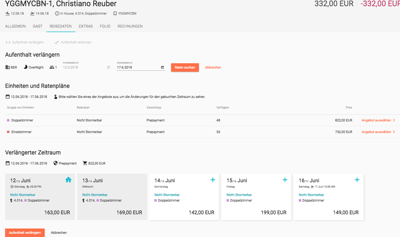 Bei der Verlängerung müssen Sie sich nicht an die Raten der ursprünglichen Reservierung halten. Wählen Sie ein Angebot und Sie werden eine Vorausschau der Reservierung unter Anwendung der Daten der gewählten Alternative sehen. Nach Bestätigung des gewählten Angebots wird die Reservierung verlängert und Sie sind fertig!
Den Aufenthalt verkürzen
Das Verkürzen einer Reservierung ist mit dem neuen Flow noch einfacher. Wählen Sie die neuen Ankunfts- und / oder Abreisedaten durch Anklicken der Kacheln in der Kalenderansicht und bestätigen Sie die Änderungen.
Zusatzleistungen verwalten
Um Ihre Zusatzleistungen zu verwalten, haben wir eine neue Sektion in den Buchungsdetails eingeführt.
Dies ermöglicht es Ihnen, Zusatzleistungen für die gesamte Reservierung global zu buchen. Es ist die erste Version, und in den nächsten Wochen werden wir diese Sektion noch weiter ausbauen.
Was kommt als nächstes?
Wir sind noch nicht fertig! Es gibt noch andere Dinge, die Sie für bestehende Reservierungen ändern möchten. Wir denken dabei an Upgrades der Kategorie, Änderungen der Anzahl an Personen und die Möglichkeit, alternative Angebote zu prüfen, damit Sie immer den besten Preis anbieten können. Bleiben Sie auf dem Laufenden und erfahren Sie mehr in unseren nächsten Release Notes.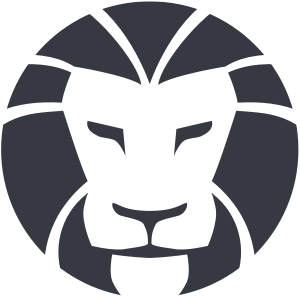 Posted by
Magical release note fairies
We are a little crew of product owners, developers and marketers who love writing release notes. Prior to writing release notes, we worked on developing sweet features that we think hotels will love. In our spare time, we like thinking of fun ways to share the news with hoteliers because we think that release notes should be fun to read. We hope you enjoy the notes as much as we love writing them!