---
We're going to let you in on a little secret. Some of us apaleos travel. A lot. Like, a lot a lot. We haven't even seen a few of our sales guys in what seems like months (Martin, if you're reading this, we miss you!!). And your hotel probably knows some folks like that, although most of them probably work at huge companies that have negotiated some corporate rates.
So, how on earth do you keep up with all those corporate rates, you might ask? It is really messy and complicated, right? WRONG. Check it:
First define the companies that you want to set rate plans for: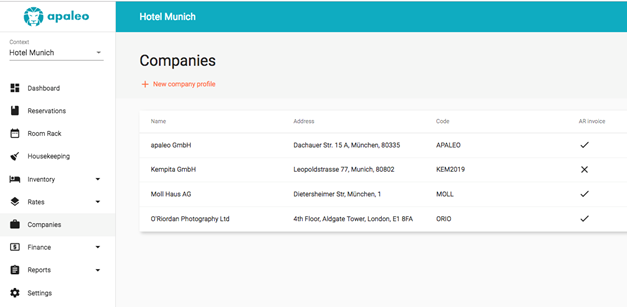 Having the company on its own is pretty useless, so go ahead and specify the rate plans. If you have a few companies that are all using the same rate plan, that's fine too. One rate plan can be booked by many different companies!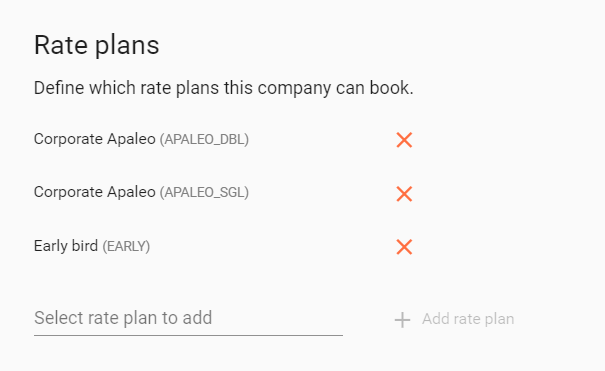 Then, you're free to set reservations using corporate codes, which will also show up on the invoice.
But, look. You're running a business here, so you probably want to check how much money you're actually making from that company that promised you'd get tons of business if you offer this discounted rate, right? Right. So have a look:

Now go off and get those business travelers!
Cheers,
Your release note fairies (who are not really travelling that much for business)
---
Okay, das ist jetzt wahrscheinlich total überraschend, aber: wir apaleos gehen in Hotels. Oft. Richtig richtig oft, sogar. Einige unsere Sales-Leute waren seit Monaten nicht mehr im Büro (Martin, wenn du das liest, wir hoffen Dir geht es gut, liebe Grüße!).

Sie haben sicher auch Gäste wie uns, Geschäftsreisende. Wenn diese von großen Firmen kommen, haben Sie oft spezielle Raten und Konditionen. Hunderte an speziellen Raten unter Kontrolle zu halten ist schnell mal kompliziert und chaotisch, richtig? FALSCH. So geht's auch einfacher:

Legen Sie als erstes Ihre Firmenkunden an: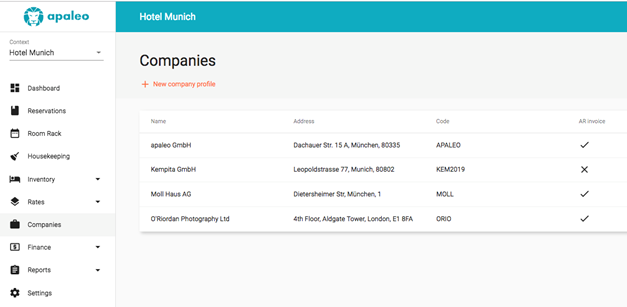 Super, das ist schonmal ein guter Anfang. Als nächstes geben Sie an, welche Ratenpläne diese Firma denn buchen darf. Und hier ist der Clou: Jede Firma kann mehrere Ratenpläne haben, und ein Ratenplan kann auch von mehreren Firmen buchbar sein. Dadurch kann man Ratenpläne viel besser strukturieren. Wenn jetzt zum Beispiel zehn große Firmen beide eine Executive-Spezial-Rate ausgehandelt haben die genau gleich ist, muss man nur noch einen Ratenplan anlegen.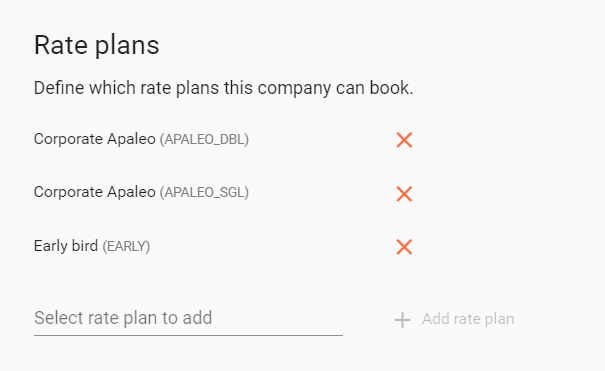 Damit wäre das Setup fertig, und Ihre Firmenkunden können Firmenraten buchen. Was noch fehlt, ist zu sehen ob denn Ihre Firmenkunden tatsächlich so viel Business bringen wie sie beim Verhandeln versprochen haben. Hunderte an Reservierungen, jeden Monat! Ob das stimmt, kann man im General-Manager-Report nachschauen. Und dann vielleicht bei der nächsten Runde doch ein bisschen teurer werden...




Viel Spaß mit dem neuen Feature wünscht
Das apaleo Produkt-Team (das meistens nur privat in Hotels geht)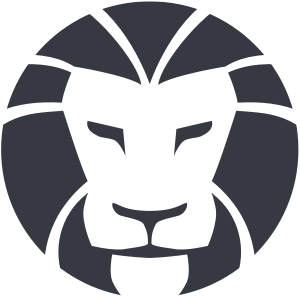 Posted by
Magical release note fairies
We are a little crew of product owners, developers and marketers who love writing release notes. Prior to writing release notes, we worked on developing sweet features that we think hotels will love. In our spare time, we like thinking of fun ways to share the news with hoteliers because we think that release notes should be fun to read. We hope you enjoy the notes as much as we love writing them!