What's Included in the Hotel Relief Package

♥

?
As hotels begin to reopen, staff are being asked to face completely new responsibilities and put themselves on the front lines with the public. Proper social distancing measures unfortunately come with the consequences, mainly reduced or even completely cutting out services. Physical representations such as Plexiglas barriers, roped-off seating areas, and signs posted on every wall are a constant reminder of things guests can't do. However, many services that hotels offer have already been moving in the digital direction and solutions already are on the market that suit today's needs. Take a look at a few "Guest-Journey" apps that have pledged solutions to the Hotel Relief Package (in alphabetical order).
1. Digital Check-in/Check-out
One of the first things hotels want to do is reduce high traffic areas and avoid lines. The biggest culprit of build-up is at the reception, especially during peak check-in and check-out times. There are multiple ways to break this up: self-service kiosks, web check-in, or surveys that securely collect guest information prior to check-in.
2. Digital Locks
Keyless entry and lock systems are complimentary to digital check-in solutions because they limit access and reduce the need for additional staff to monitor all areas of the hotel. For hotels looking to reduce on-site staff, it's also important to control which areas are accessible by guests with their keycards. Physical readers can make sure that your guests access the right floor and the right amenities, at the right time.
3.Guest Messaging
In-person communication has always been perceived as a personal aspect of a hotel's level of service; however, online messaging has become so ubiquitous during the lockdown, that people have gotten used to the idea of communicating with chatbots and messaging their service providers. It ends up being more efficient for staff to manage communication with guests in real time when they can provide quick and simultaneous answers to frequent questions.
4. Digital Concierge
Over-communication is under-rated. Right now, it is acceptable - if not encouraged - to provide additional information for your guests in a way that is easily accessible on any device. One of the casualties of the crisis will likely be those printed information booklets that are often found at hotels in favor of digital resources that can easily be updated when information changes over time.
Technology is the answer to so many questions that hoteliers are asking today. Throughout the guest journey, there are solutions out there that are making it super easy for hotels to upgrade at little or no upfront cost. All of the apps mentioned in this post have committed to reducing barriers to try these solutions. For a limited time, none are requiring long-term commitments, so trying out any of these solutions comes at little risk. At the heart of the package, apaleo is pledging integration of any or all these apps into our property management system for free with a 6-month free trial that we are betting you will love.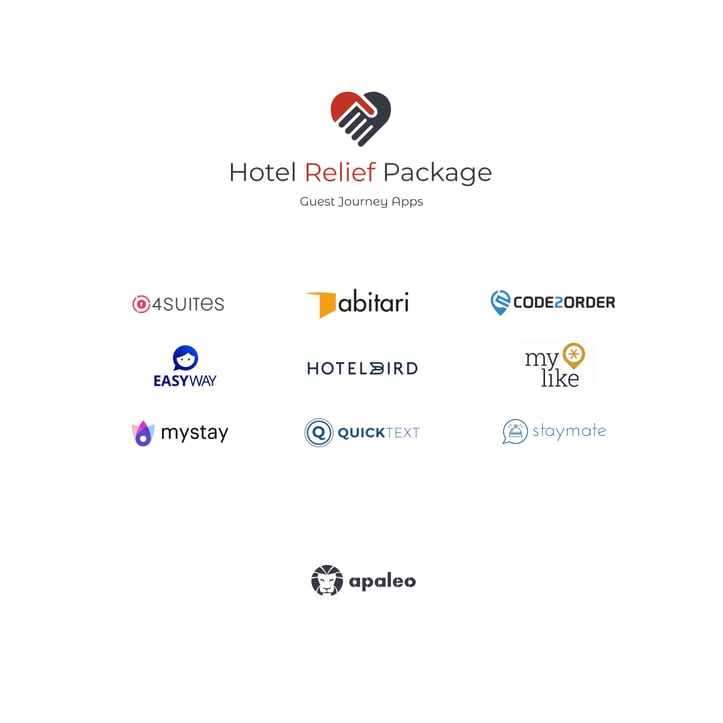 Posted by
Nicholas Johnson
Nicholas has his hands in all things marketing at apaleo. After discovering his love for travel, he's lived, worked, and studied in Los Angeles, San Francisco, Paris, Japan, and Germany, where he is currently eating pretzels. Nicholas has been telling stories for over five years based on a unique perspective built from degrees in marketing and international tourism. His passion for visuals and design are the wrapping paper to his entire package.