Samuel Braun, with three properties in Berlin, announced today that it is switching its core property management system (PMS) from a closed legacy system to apaleo, the most open, next-generation cloud-based PMS. The new system is already live in one property, about:berlin Hotel, with the intention to use in other properties.
about:berlin Hotel's lifestyle brand is meant to inspire a new breed of traveler – one that enjoys connecting with bright minds in a vibrantly designed lobby, one that wants to build memories of their journey, and one that is open to getting an insider view of the city. One thing was clear for about:berlin Hotel – catering to this new breed of traveler required an equally open, new breed of technology to keep up! After rethinking its digital journey and searching the market, about:berlin Hotel chose apaleo as its core technology.
"After working with Opera's legacy system for several years, Samuel Braun is excited to adapt to the next generation of guests," said Christoph Nuppenau of Samuel Braun. "With apaleo, about:berlin Hotel has removed obstacles like integration pains, long wait times, hidden interface fees which had held us back in the past, and we can now seamlessly connect new technology to best run the hotel. We are looking forward to taking apaleo live in other properties in the near future."
about:berlin Hotel connected several systems to apaleo's PMS with ease, including CRS, CRM, Booking.com Connect for distribution, Fairmas for revenue management, and Adyen to facilitate payments. With apaleo's API-first approach, all these systems work seamlessly together.
"Legacy systems have been holding hotel brands back for far too long. We built apaleo with the idea to remove all the pain points that hotels have with legacy systems and to allow hotels to move their technology into the future," said Philip von Ditfurth, co-founder of apaleo. "We are delighted to have partnered with Samuel Braun and their new concept about:berlin Hotel, and look forward to bringing it their other hotels – each with different concepts – live with apaleo and a custom set of apps to fit their business needs."
At about:berlin Hotel you can feel at home with a good friend. The first thing you see when you step out of the elevator on the 5th floor is the heart of the hotel: the lobby - an open space for open minds. A relaxed living room where people from all over the world meet, connect and inspire each other. A vibrant space, created for extraordinary experiences and memories that last. With everything we do, we want to help you get the most out of your journey. We are your Berlin insider. We bring the city to you and take you to places you've never been before. Places to discover the most interesting food, the coolest music, the hottest nightlife, finest fitness and most inspiring art and culture in the city. about:berlin Hotel is a lifestyle hotel concept - inspired by Berlin and designed for you: A new breed of traveler! STAY INSPIRED.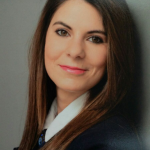 Posted by
Katarina Simic
Katarina is apaleo's marketing manager, responsible for content, events, campaigns and so much more. After studying law, Katarina was a legal consultant for the city of Zagreb. However, it was in hospitality that Katarina really found her passion. She went on to run a small, family-owned hotel in Croatia and enjoyed it so much that she decided to return to school to get her MBA in International Tourism Management. During this time, she was a project manager for Hochschule Bremen, responsible for developing brand strategies for key regions.