It isn't always easy building a product from scratch. Before going to work on apaleo, we discussed in great detail how we wanted to build our product. Join this meetup to learn from Andrea Stubbe about the story of how we built apaleo.
Sign up here: https://www.meetup.com/Microservices-Meetup-Munich/events/249415521/
More Info
When we started building a product from scratch, we had long discussions on how to design it - not being able to afford the initial ramp-up costs of microservices, but knowing the pain of monolith maintenance. This is the story how we built a monolith. With the goal to tear it down.
Details
Please keep your RSVP up to date, free spots are always in demand!
We will meet at 6:30pm at the canteen of RIO – a Brand of Volkswagen Truck & Bus (MAN Truck & Bus building), with drinks and pizza.
The talk starts at 7pm and will be in English
After the talk we have time for drinks and conversations.
About Andrea
Andrea started coding as a kid, paused that for some years trying to find more interesting things, but then ended up doing that for a living. After working as a freelancer, researcher, teacher, and a normal employee in small and giant corporations, she fulfilled her childhood dream and co-founded a company a year ago. Being a fan of microservices since before she knew that term, she's still contemplating how and if to use them in micro-sized companies.
https://www.linkedin.com/in/andreastubbe/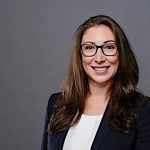 Posted by
Margaret Ady
Margaret is a leading industry voice. She's no stranger to travel tech startups, having led marketing for Berlin-based SnapShot, and prior to that, for TrustYou. And, she's been recognized for it. In 2016, she was awarded HSMAI Europe's Top 20 Extraordinary Minds in Sales, Marketing and Technology. Before joining the hospitality technology scene, Margaret held leadership roles at The Walt Disney Company and The Oprah Winfrey Network. Margaret has also provided research, branding and marketing consulting services to many companies, including 20th Television (Fox), Nielsen and Red Bull. She graduated from the University of Southern California (go Trojans!) with degrees in Economics and Psychology and a focus in business. During her studies, she was awarded the USC Annenberg Communications Critical Pathway Grant for her research in new technology and its impact on healthcare decision-making.