It's check-in time. After another year, apaleo reached back out to Made In Louise, a charming boutique hotel at the forefront of the hotel technology landscape. Martin Duchateau, the owner of the independent hotel, follows up our 10 Question Series with his experience dealing with the COVID-19 crisis, a peek into his new hotel project, and a prediction of the future of a hotel technology.
Re-introducing Martin and his hotel, Made in Louise:
apaleo: Hi Martin, for our new readers, can you tell us about yourself and your background?
Martin Duchateau: I have been in the hotel industry for 20 years, having worked for Hilton, Design Hotels, and Radisson in several senior positions, mainly in revenue management. This journey started in Brussels, then Dublin, Singapore, Berlin and back to Brussels. It really helped me to explore and learn different ways of working and systems. Since returning to Brussels, I decided to work as a hospitality consultant and at the same time managing our family hotel, the Made in Louise. This hotel is my "lab" where I can test, try and fail, always trying to find the perfect ecosystem with the right approach in a world where behaviours, needs, and practices change every day. We need quick and continuous adaptability.
a: Have you seen big changes in your role as a hotelier over the course of the past 5 years?
M: The past 5 years have been very interesting for an independent hotelier with a passion for tech. We have seen plenty of new cloud systems and hospitality startups try to connect to each other. By choosing the right partners in the ecosystem, it made a huge impact on our guest services and journeys. All the systems that support us always under evaluation, which is really important, as we can see now, adaptability is key to survive. Now, we have the tools to compete with hotel chains and can offer similar services thanks to our tech partners, all experts in their specific fields. We have no idea what will be the needs tomorrow, the only thing we have to ensure is to have a resilient structure that we can adapt at all times.
a: Perhaps you could tell us a little more about Made in Louise, how was it conceived, what is your role in the business, and what are your future plans/aspirations for the hotel?
M: Made in Louise is a charming boutique hotel that opened in 2012. I have opened the hotel with my sister that is as well in the hospitality business. Very quickly, we saw that we had a "match" with our guest. We did things simple with honest and real hospitality. Our strategy was based on 3 pillars: Recruitment (hiring & keeping the best people), continuous investing in the product and technologies. My role in the business is trying to always be a step ahead in the business; by travelling, researching, reading, talking to colleagues and assisting to fairs. It is the most difficult part of my job but the other hand the most exciting part. I need to take time to do that, it's not easy to sit back and think when you have a hotel running and you are just following the flow. My future plans for Made in Louise and my new hotel project will definitely be more Local (using local providers), more eco-oriented, more tech (improving the digital journey) with a feeling of slowing down. I really want to remove all negative touch points with our guests (credit cards, payments, registration cards, check in, check out) and focus only on the experience and the human approach.
The Impact of Technology:
a: The importance you've placed on integrating technology into your customer's journey is clear. What role does technology play in the success of your brand?
M: I spent a lot of energy on my IT strategy as I believe it has a dominant role in my guest's experience. It helps us to do our jobs much better and at the same time to show professionalism to our guests. I would not be able to achieve my goals without it. When I say "goals", it is e-reputation, check-in/check-out efficiencies, guest services, revenue management (RMS), direct booking strategies, etc...
a: How has your staff adjusted to using apaleo now that more time has passed?
M: It is as well very exciting for the staff. They are very motivated by seeing all the systems work together, especially when it gave them great help and support. They can finally focus on their main job which is spending time with the guest. Thanks to apaleo, I have been able to build an ecosystem that suits exactly what I need in order to deliver upon internal and external guests expectations. It is crucial for the business today to have the right tools and it will be even more important in the years to come. The hotel tech industry changes very quickly with startups all over the place, which is why we need to be resilient and be prepared to change partners much more than before. At it's core, apaleo understands this and is really in the fundamental essence of the company.
Today's Unprecedented Situation:
a: Let's just dive into the hard questions and talk about the impact of COVID-19 on your business. It was evident that you had to react by closing the hotel to survive the crisis with minimal loss. Maybe you can explain the role technology played in your response to the situation?
M: I had to decide within 24 hours to close, it went by very fast. The fact that our IT was cloud-based meant that we could relocate quickly, keep the same service standards and still be very reactive to market changes. Today, even though the hotel is closed, we offer multiple communication channels to the guest and we're adapting our IT strategy to the "new" today. We have decided to enhance our digital journey by adding a new partner that offers seamless C/I and C/O, adapted our website in order to reassure our guests and improve our revenue management practices to be even more reactive to market changes. We are also thinking of changing our door locks provider to avoid any physical contacts with key cards.
All those changes are only possible if partners are connected to each other, plus setups are usually very easy and quick. This crisis shows us again that we need a resilient structure that needs to be re-evaluated continuously.
Looking Toward the Future:
a: Earlier, you hinted that you're also working on a new project. Are there any specific lessons learned that you are taking with you?
M: I opened Made in Louise 8 years ago and I clearly did not have all the IT options I have today. We were operating the hotel with a legacy PMS that was linked to a channel manager and that was it. In the past 8 years, we jumped into a digital approach that really helped us to be competitive and productive. For my new hotel project, the idea is to go even further in the future direction and to offer a full digital journey with no reception. We plan to have a host welcome you, just as if you're at home with a nice local coffee, but have their focus be on the goal of ensuring that you live the best experiences as a "local". This is only possible for an independent hotels today, which wasn't the case 10 years ago, due to the readily available technology.
a: Where do you see the biggest potential for improvement in hotel technology?
M: I think the biggest improvement will come from the CRM world, it seems that is still a lack of partners in this field. It is clearly very challenging but at this point as hoteliers, we should know better our guests. It would be more beneficial for all partners and the ecosystem would be stronger if systems would improve their connections to each other with 2-way feeds
a: On that note, do you have a prediction for what will be the next big thing?
M: Looking a few years ahead, I really hope we will have more and better integrations with companies outside the hospitality world (restaurants, airports, taxis, concierges, tourism boards, etc...). The idea would to give more information to the guest and a seamless guest journey, thanks to "Big Data". These will finally connect in order to draw "a real" personalised service, a journey that would be unique and specific to each guest. We will, as well, see more connected devices in room. The guest will choose the atmosphere, the music, the lighting, the temperature, etc... and of course these would be stored for his next stay. Guest loyalty will also be a big subject for the years to come and it will need to completely rethink the model since millennials are changing what it means to be loyal. There is still so much to do in hotel's technology!
a: It is especially interesting to hear your perspective on this last question: what is your personal favourite hotel to stay in and why?
M: I love staying in hotels that will surprise me in some way, where I learn something that I can take back with me. Most of the time, I search for small independent hotels. I look at reviews, their website, their social media and if all the elements show consistency and emotions, I will go for it. Price comes in after that (it has to stay reasonable). One of my best stays was at Hotel 41 in London, a small boutique hotel (part of Red Carnation Hotels). I was very touched by the level of comfort and service, everything was perfectly balanced without being too much. You could feel that had a strong digital focus which helped them enhance the guest experience.
a: Until next time, do you have any words of wisdom to pass along to other hoteliers like yourself?
M: Most of time what ends up making a place somebody's favourite is just a feeling you get when you enter the place, there is a lot you cannot explain. Hotels have to make the best impression with the right amount of energy and positive vibes. Nevertheless, it is vital that we don't forget that the guest journey starts upon booking, primarily digital by today's standards, so it's important to consider the guest journey, before, during and after the stay. Thanks to our digital companions, this is possible!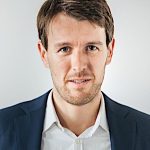 Posted by
Martin Reichenbach
Martin Reichenbach is a co-founder of apaleo and leads the company's operations. He is specialized in B2B cloud software and has been working in the hospitality industry for many years, combining technical knowledge of computer science studies and a longstanding business experience in the field of marketing and pricing.