Here's a terrifying fun fact: some insects have superpowers. Take scorpions, for example. They can flatten their bodies to the size of a small coin, which allows them to get through small crevices, cracks, doorjambs...anything really. This crazy power means that scorpions can invade virtually any area that they want to invade. Yikes. Glad you live in the city now, right?
Airbnb is the scorpion of accommodations. There's one, actually more like five, in that downtown condominium complex right around the corner from your hotel. These accommodations have snuck into your hotel's turf are hiding in plain sight with low operating costs and a cozy kitchen where guests can make their own breakfast that's better than the cereal at your free breakfast buffet.
Back in 2016, Brian Younge of Colliers International Hospitality and Leisure Group noted that Airbnb not only has an impact on hotel demand but that impact will be felt most by limited service hotels. Airbnb supply "siphons demand from a lot of the limited-service properties in core markets and high tourist areas," said Younge (BisNow). Makes sense. Luxury travelers still want the services that Airbnb doesn't provide so the upscale market just won't see the same hit.
This isn't the only way that the Airbnb scorpion stings limited service hotels. Pair this with a reduction in compression nights, when hotels would normally fill rooms at a much higher rate during big events, and limited-service hotels are in a tight squeeze. Compression nights have been on the decline, and it's mostly because of the likes of Airbnb and HomeAway. Dina Gerdeman writes for Forbes, "That's bad news for hotels, which have traditionally earned their biggest margins when rooms were scarce and customers were forced to pay higher rates."
The (potentially) fatal blow: limited-service hotels are seeing the most growth, with 407,000 rooms coming online in 2018-2019 in the U.S. alone, which means not only competition from private rentals, but also stiffer competition from your hotel peers.
What's a hotel, particularly a limited-service hotel, to do? Get in the head of the scorpion. Strip Airbnb down to its core. Peel back the hospitality mask that it wears and under the surface, you'll find a technology company (As is Uber. As is Expedia.). Each is built on savvy core technology where budgets and innovation go toward creating a better user experience. Limited-service hotels don't have this luxury, since, you know, they're saddled with an actual product on real estate with investors and owners. However, the chief way this hotel segment will compete against the scorpions of the hospitality world is to think like a technology company. Invest in user experience (in other words, the guest journey) wherever possible. Create administrative efficiencies via technology. Use technology to help you grow and generate more revenue.
To do this, hotels must break out of legacy software that doesn't connect. In fact, it's not just legacy software that's problematic—even some tech that was released just yesterday doesn't integrate. This is where you must dig deepest when committing to new technology. You must ensure that you have open access and the ability to bring on new innovations that will change the way you do business. Opening up the possibilities of trying out new technologies that work seamlessly with core systems is the only affordable and viable path for hotels to slyly transform themselves into technology companies.
So little is about the room anymore when it comes to hotels and so much is about the guest's experience of being able to choose how he or she wants to engage (i.e., automated check-in/out, texting for housekeeping, etc.). The technology for this category likely stays in the background because most midscale and economy properties aren't going to be adding tech bells and whistles to the rooms without taking a chunk out of already tight room margins. 2019 will be this behind-the-scenes technological innovation gives urban hotels competitive superpowers, becoming the scorpions that nobody saw squeeze through the door.
PS: If you want to start thinking like a technology company, but don't know where to start, here's a tip - update your core system so that it can adapt to any new technology that you throw its way. This buyer's guide is a good start.
---
Nutzloses Wissen des Tages: Es gibt Insekten mit Superkräften. Nehmen Sie zum Beispiel Skorpione her. Sie können ihre Körper auf die Größe einer Cent-Münze schrumpfen. Dadurch kommen sie durch kleine Spalten, Risse, Türspalten...so ziemlich durch alles.
Wenn es in der Hotelindustrie solche Superkräfte gäbe, dann wäre wohl Airbnb ein Skorpion. Das nächste befindet sich vermutlich nur einen Häuserblock weiter, gleich ums Eck Ihres Hotels. Wie viele andere auch, hat sich die Privatunterkunft unbemerkt in Ihr Hotelrevier eingeschlichen. Mit niedrigen Betriebskosten und gemütlichen Küchen, in denen Gäste ihr eigenes Frühstück zubereiten können, das vermutlich auch noch besser schmeckt, als Ihr gratis Frühstücksbuffet, stellen sie eine wahrhaftige Konkurrenz dar.
Schon 2016 kündigte Brian Younge von der Colliers International Hospitality and Leisure Group an, dass sich Airbnb auf die Hotelnachfrage auswirken und sich insbesondere bei limited-service Hotels bemerkbar machen würde. Warum? Luxusreisende wollen auch weiterhin den Service, der bei Airbnb nicht geboten wird. Somit ist das obere Marktsegment der Hotelindustrie deutlich weniger betroffen, als limited-service Hotels.
Früher waren Hotels und speziell limited-service Hotels auch während großen Events immer schnell ausgebucht (auch 'compression nights' genannt). Heute weichen viele Reisende auf Airbnb oder HomeAway aus. Dina Gerdeman schreibt dazu im Forbes Magazin: "Für Hotels, die traditionell ihre größten Umsätze erzielten, als nur mehr wenige Zimmer verfügbar waren und Gäste dadurch gezwungenermaßen höhere Preise zahlen mussten, sind das sehr schlechte Nachrichten."
Der (potentielle) Totschlag für limited-service Hotels: 2018-2019 wurden alleine in den Vereinigten Staaten 407,000 Zimmer online gestellt. Für limited-service Hotels hat das zur Folge, dass sie nicht nur mit den Privatanbietern selbst, sondern gleichzeitig auch mit anderen Hotels in verstärkter Konkurrenz stehen.
Was können Sie als Hotel, und besonders als limited-service Hotel, dagegen unternehmen? Versetzen Sie sich in den Skorpion und entzaubern Sie Airbnb. Sie werden sehen, dass sich hinter der Maske der Gastfreundschaft auch nur ein Technologieunternehmen versteckt (wie bei Uber und Expedia auch). Das Herzstück all dieser Unternehmen ist eine clevere Kerntechnologie. Ihr Geld und Innovationsdenken können dadurch in ein verbessertes Nutzererlebnis einfließen. Über einen solchen Luxus verfügen limited-service Hotels allerdings nicht, da sie ein tatsächliches Produkt mit Investoren und Besitzern auf dem Immobilienmarkt verwalten.
Um die Skorpione der Hotelindustrie zu besiegen, liegt der Schlüssel zum Erfolg dieses Hotelsegments also darin, wie ein Technologieunternehmen zu denken. Das bedeutet in die digitale Gästereise zu investieren, administrative Tätigkeiten mithilfe von Technologie effizienter zu gestalten, sowie durch Technologie zu wachsen und mehr Umsatz zu generieren.
Um das zu tun, muss sich Ihr Hotel von veralteter Software trennen, die sich mit keinem anderen System verbinden lässt. Genau genommen handelt es sich hierbei nicht nur um ältere Systeme, selbst die neueren Technologien lassen sich nicht immer nahtlos mit Drittsystemen integrieren. Seien Sie in dieser Hinsicht also besonders vorsichtig, wenn Sie auf der Suche nach einer neuen Technologie für Ihr Hotel sind: Stellen Sie sicher, dass das System für jegliche Innovation offen und zukunftssicher ist.
Wenn Sie die richtige Basis haben, um neue Technologien zu testen, die sich nahtlos mit dem Kernsystem integrieren, bringen Sie Ihr Hotel auf erschwingliche und einfache Weise einem Technologieunternehmen ein kleines Stück näher.
Oft geht es den Gästen nicht mehr um die Zimmer selbst sondern um ihr Gästeerlebnis und die Freiheit zu bestimmen, wie sie mit dem Hotel kommunizieren wollen (z.B. automatisiertes Check-in/-out, SMS für Housekeeping usw.). Da die meisten Hotels der niedrigen und mittleren Preisklasse aber ihre Zimmer nicht mit Hi-Tech Features ausstatten können, ohne dabei die ohnehin schon engen Preisspannen weiterhin zu reduzieren, wird Technologie in dieser Kategorie vermutlich erstmal im Hintergrund bleiben.
2019 ist das Jahr, in dem sich Stadthotels mit Hilfe dieser technologischen Innovation im Hintergrund zu den Skorpionen entwickeln, die niemand hat kommen sehen.
PS: Wenn Sie zwar wie ein Technologieunternehmen denken wollen, aber nicht so recht wissen, wo Sie am besten anfangen sollen, dann haben wir einen kleinen Tipp für Sie bereit – bringen Sie das Herzstück Ihrer Technologie auf den neuesten Stand, so dass es sich an jedes System anpassen kann, mit dem Sie in Zukunft arbeiten wollen. Vielleicht hilft Ihnen dieser Einkaufsführer dabei weiter.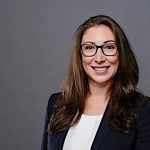 Posted by
Margaret Ady
Margaret is a leading industry voice. She's no stranger to travel tech startups, having led marketing for Berlin-based SnapShot, and prior to that, for TrustYou. And, she's been recognized for it. In 2016, she was awarded HSMAI Europe's Top 20 Extraordinary Minds in Sales, Marketing and Technology. Before joining the hospitality technology scene, Margaret held leadership roles at The Walt Disney Company and The Oprah Winfrey Network. Margaret has also provided research, branding and marketing consulting services to many companies, including 20th Television (Fox), Nielsen and Red Bull. She graduated from the University of Southern California (go Trojans!) with degrees in Economics and Psychology and a focus in business. During her studies, she was awarded the USC Annenberg Communications Critical Pathway Grant for her research in new technology and its impact on healthcare decision-making.