New feature saves time by incorporating all hotel systems and data directly within apaleo's PMS. One tab, and you're done.
It happens all too often that we start off the work day organized, and then somehow within a matter of hours (or sometimes even minutes!), we've ended up with dozens of tabs opened, with many systems running, and it takes tons of clicks and searching around to find the info we need when we need it. It's especially true for hoteliers, who work with many different systems throughout the day, and it is not pleasant.
Open property management system, apaleo, already connects to any hotel application, but with its recently released apaleo One connection, data from all these pre-connected tools is available directly within apaleo's property management system.
For example, take passport and ID scanning tool, Adria Scan. It recently used apaleo One to scan guest IDs and passports directly into apaleo's PMS. Just imagine…Paper forms. We love to hate them. Guests don't enjoy filling them out when ID or passport details are required upon check in. Front desk staff don't enjoy manually adding these details to their property management system. Even if the data can be scanned to reduce some of the manual work, front desk staff are left clicking between dozens of different systems to find the right information.
With apaleo One, hotels use Adria Scan to scan guests' IDs or passport details and watch all the information populate directly within apaleo's PMS in seconds. No forms, no manual entry, no extra systems. Just collect a guest's passport, click to scan it, and you're done.
"Using paper forms at check-in creates a clunky guest experience within the first few seconds of the guest arriving at the hotel. It also takes away time from your front desk staff. We wanted to fix that," said Andrea Stubbe, co-founder and product owner at apaleo. "What's also really exciting about this partnership is that all the data goes directly into apaleo's product using a new user interface integration. This reduces the amount of systems and browser tabs that the hotel needs to have open."
Additional integrated partners, including Atomize, HotelAppz, and RoomPriceGenie are already building similar connections directly within apaleo's PMS, which will further reduce the amount of systems that have to be opened and clicked through at any given time.
"Deep integrations add immense value for hotels, giving them the ability to use and understand guest data in real-time. Perhaps most importantly, it allows hotels to plug in the systems that are the best and most innovative in their space," said Rui Teixeira Guerra, CEO of HotelAppz. "apaleo One takes these integrations one step further by tightly connecting the systems so that hotels can see all important data in one screen rather than in multiple different browser tabs."
Hotels looking to see live demos can stop by apaleo's innovation hub at ITB (reserve a spot, space is limited) or can schedule a meeting here to get to know apaleo better.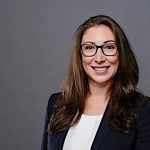 Posted by
Margaret Ady
Margaret is a leading industry voice. She's no stranger to travel tech startups, having led marketing for Berlin-based SnapShot, and prior to that, for TrustYou. And, she's been recognized for it. In 2016, she was awarded HSMAI Europe's Top 20 Extraordinary Minds in Sales, Marketing and Technology. Before joining the hospitality technology scene, Margaret held leadership roles at The Walt Disney Company and The Oprah Winfrey Network. Margaret has also provided research, branding and marketing consulting services to many companies, including 20th Television (Fox), Nielsen and Red Bull. She graduated from the University of Southern California (go Trojans!) with degrees in Economics and Psychology and a focus in business. During her studies, she was awarded the USC Annenberg Communications Critical Pathway Grant for her research in new technology and its impact on healthcare decision-making.