---
Imagine if every time you wanted to install a new app on your smartphone, you had to call the maker of your phone to ask about it, then schedule a date far in the future for one of their representatives to come to your house, get it working on your phone, and charge you heaps of money in the process. You wouldn't stand for it, right? Then why go through a similar process when working with your property management system (PMS)?
Legacy PMSs make it difficult and costly to connect all systems. Even some modern, cloud-based PMSs aren't developed in a way that makes connectivity as easy and painless as it should be. So how does a PMS make your hotel tech as simple to manage as the apps on your smartphone? It must disrupt. It must rethink the way the entire product is developed. And that begins with an API first approach.
But first, what is an API?
API stands for Application Programming Interface (stay with me here...) and it allows systems to communicate with each other much more intelligently than has ever been possible before. APIs make our lives easier on a daily basis without us even realizing it, from automatically reminding us to complete that travel booking we started earlier to snagging those presale Beyoncé concert tickets to telling your internet browser to show you the news when you want to see what's going on in the world.
For hotels, well-designed APIs represent a quantum leap forward from older interfacing methods, allowing vendors to connect to other systems with minimal effort, far greater stability and much richer integration, all with the ultimate benefit of vastly improving the guest experience and increasing efficiencies across the business through streamlined processes and automation.
Now that that's cleared up, how do modern PMSs incorporate APIs into their product development cycle?
Cloud-based PMSs that offer an open API have started to make connectivity easier in the last few years, but still face issues because of the way their systems are built – with the PMS first, then the API later. The development cycle looks like this: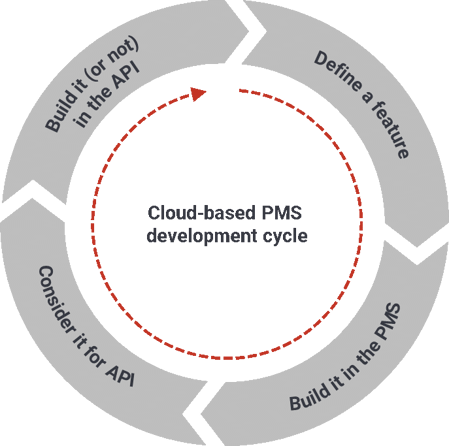 On the surface, it sounds logical. But the API is fundamental to your hotel's ability to integrate with anything. With the PMS coming first, then the API later (either as an afterthought or as a new revenue stream), you run the risk that the data you need either isn't available or requires custom developments from your PMS vendor that cost time and money.
The new API first approach
The new approach, which is unique to apaleo, turns things upside down. It starts with the API, then the PMS is built on top of it. Here's how that product development cycle looks: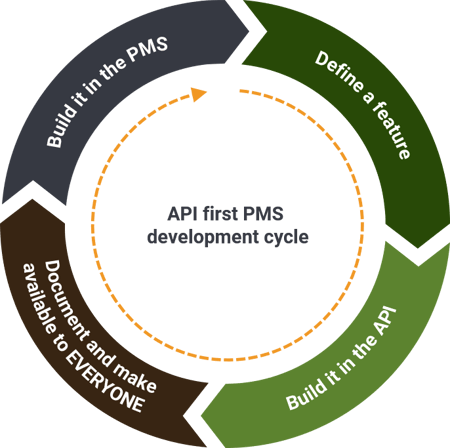 By putting the API front and center, the process of connecting any and all systems to your PMS is drastically simplified. It makes automatic interfacing a reality (a couple of clicks, no humans/engineers needed). It enables deeper and more seamless integrations. It simplifies set up and workflows for users. And it radically reduces the effort and time needed to develop the integration in the first place.
When starting with the API first, the PMS can guarantee that everything - every single piece of data - in the PMS is also completely available, accessible and integrate-able. In fact, at apaleo, we even put feature support and documentation in our API first, then connect, just like any other 3rd party system. This ensures that hotels never face a situation where a connected system can't make use of every single feature in our PMS. And, best of all, this new approach allows PMS vendors to drop all the frustrating costs traditionally associated with integrations (services, support fees, time spent waiting).
With this setup, you can truly build your own ecosystem with a range of awesome applications that integrate seamlessly with all the other systems you've specified. It allows you to run your business like a dream and wow your guests. The new, connected world of hotel tech is here, and it all starts with the API. Welcome to the API first future.
---
Denken Sie "PMS" neu: der API-First Ansatz
Stellen Sie sich vor: Jedes Mal, wenn Sie eine neue App auf Ihrem Smartphone installieren wollen, müssen Sie den Hersteller Ihres Telefons anrufen, um einen Termin in ferner Zukunft zu vereinbaren. Dann käme ein Mitarbeiter zu Ihnen nach Hause kommt, um die App zu installieren und dies Ihnen in Rechnung zu stellen. Das würden Sie doch nicht ertragen, oder? Warum würden Sie dann einen solchen Prozess bei Ihrem PMS akzeptieren?
Bei Legacy-PMS-Lösungen ist es schwierig und kostspielig, andere Systeme zu anzubinden. Selbst einige moderne, cloud-basierte PMS lassen keine einfachen und schmerzlosen Integrationen zu. Wie also kann ein PMS Ihre Hoteltechnologie so einfach verwalten, wie Apps auf Ihrem Smartphone? Es muss disruptiv sein. Die Art und Weise, wie das gesamte Produkt entwickelt wird, muss überdacht werden. Beginnend mit dem API-First Ansatz.
Aber was genau ist eine API?
API steht für Application Programming Interface. Es ermöglicht Systemen, viel intelligenter miteinander zu kommunizieren, als es bisher möglich war. APIs erleichtern uns das tägliche Leben, ohne dass wir es überhaupt merken: Von der automatischen Erinnerung an die Reisebuchung, die wir unterbrochen haben, bis hin zum Besorgen der Beyoncé-Konzerttickets im Vorverkauf.
Für Hotels stellen gut gestaltete APIs einen Quantensprung gegenüber älteren Systemen dar, die es Anbietern ermöglichen, sich mit minimalem Aufwand, weitaus größerer Stabilität und viel umfassenderer Integration mit anderen Systemen zu verbinden. Und das mit dem ultimativen Vorteil, das Gästeerlebnis erheblich zu verbessern und die Effizienz im gesamten Unternehmen durch optimierte Prozesse und Automatisierung zu steigern.
Jetzt hätten wir geklärt, was APIs sind. Aber wie integrieren moderne PMS-Lösungen APIs in ihre Produkt-Entwicklung?
Cloud-basierte PMS-Lösungen, die eine offene API anbieten, haben in den letzten Jahren begonnen, ihre Konnektivität zu vereinfachen. Aufgrund der Natur ihrer Systeme stehen sie immer noch vor Herausforderungen - mit dem PMS sowie mit der API.
Die Produkt-Entwicklung sieht dann folgendermaßen aus: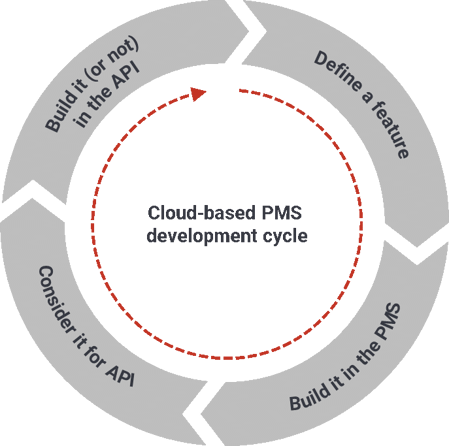 Grundsätzlich ist das logisch. Aber die API ist entscheidend dafür, dass Sie jedes System in Ihrem Hotel integrieren können. Wenn zuerst das PMS gebaut wird und dann erst die API (entweder als nachträgliche Überlegung oder als neue Einnahmequelle), laufen Sie Gefahr, dass die benötigten Daten entweder nicht verfügbar sind oder kundenspezifische Entwicklungen von Ihrem PMS-Anbieter erfordern, die Zeit und Geld kosten.
Der neue API-First Ansatz
Der neue Ansatz, der apaleo einzigartig macht, stellt die Dinge auf den Kopf. apaleo hat die API zuerst gebaut, dann erst das PMS.
Die Produkt-Entwicklung sieht hier folgendermaßen aus: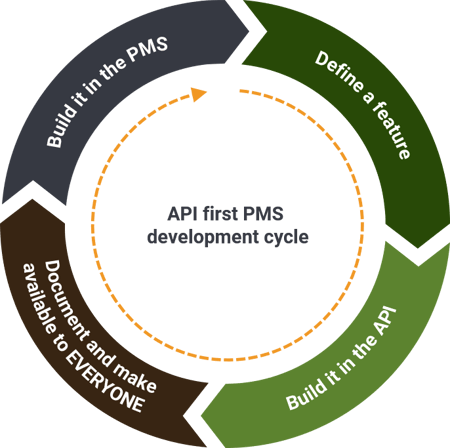 Durch diese vorrangige Rolle der API vereinfacht sich die Anbindung anderer Systeme an Ihr PMS drastisch. Automatische Schnittstellen werden dadurch Realität (es braucht nur ein paar Klicks, keine Menschen und Ingenieure). Tiefere und nahtlosere Integrationen werden ermöglicht. Die Einrichtung und die Arbeitsabläufe für die Benutzer werden vereinfacht. Auch werden der Aufwand und die Zeit zur Entwicklung der Integrationen radikal verkürzt.
Wenn zuerst die API gebaut wird, kann garantiert werden, dass alle Daten im PMS auch vollständig verfügbar, zugänglich und integrierbar sind. Bei apaleo veröffentlichen wir neue Features und die technische Spezifikation dazu bevor wir dann das PMS mit der API verbinden, um das Feature auch für die Endnutzer verfügbar zu machen. Das Feature ist damit gleichzeitig für apaleo und alle anderen Anbieter nutzbar. Auf diese Weise stellen wir sicher, dass Hotels nie in die Situation geraten, dass ein angeschlossenes System nicht jedes einzelne Merkmal unseres PMS nutzen kann. Das Beste daran ist, dass dieser neue Ansatz es PMS-Anbietern ermöglicht, die frustrierend hohen Kosten, die traditionell mit Integrationen verbunden sind (Services, Supportgebühren, Wartezeiten), zu senken.
Mit diesem Setup können Sie tatsächlich Ihr eigenes Ökosystem mit einer Reihe von großartigen Anwendungen aufbauen, die sich nahtlos in alle anderen von Ihnen ausgewählten Systeme integrieren lassen. Es ermöglicht Ihnen, Ihr Unternehmen geschmeidig zu führen und Ihre Gäste zu begeistern. Die neue, vernetzte Welt der Hoteltechnik ist da, und alles beginnt mit der API. Willkommen in der API-First Welt!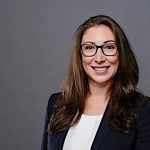 Posted by
Margaret Ady
Margaret is a leading industry voice. She's no stranger to travel tech startups, having led marketing for Berlin-based SnapShot, and prior to that, for TrustYou. And, she's been recognized for it. In 2016, she was awarded HSMAI Europe's Top 20 Extraordinary Minds in Sales, Marketing and Technology. Before joining the hospitality technology scene, Margaret held leadership roles at The Walt Disney Company and The Oprah Winfrey Network. Margaret has also provided research, branding and marketing consulting services to many companies, including 20th Television (Fox), Nielsen and Red Bull. She graduated from the University of Southern California (go Trojans!) with degrees in Economics and Psychology and a focus in business. During her studies, she was awarded the USC Annenberg Communications Critical Pathway Grant for her research in new technology and its impact on healthcare decision-making.