apaleo is a future-driven, smart platform for individual hotels and hotel chains. Through a modern interface structure, apaleo offers the possibility to connect to other systems like happyhotel in a simple and uncomplicated way.
Horrendous costs or month-long integrations are completely eliminated - you can easily select and activate your additions to the platform yourself with just a few clicks.
happyhotel offers a smart solution as a revenue management system. Thanks to the cooperation between apaleo and happyhotel, apaleo customers can directly create an account at happyhotel.
"Through the interaction of apaleo and happyhotel the operative hotel management is taken to the next level. The open API of apaleo merges revenue management with guest management. The result is time saving as well as an optimal overview of its hotel key figures with minimal effort."
But what does a revenue management system like happyhotel offer?
In many hotel chains there are already independent revenue managers that try to predict the expected prices by using different data and metrics. As a result, more revenue is siphoned off and profits increase. happyhotel intervenes at this point and helps the hotelier to increase turnover. No revenue manager is needed, the hotelier himself can take over this role of price forecasting. This means saving personnel costs.
happyhotel can forecast the demand on a daily basis and illustrate this with clear, graphical evaluations so the hotelier can react fast and adjust his room prices in advance. It also shows how the demand behaves and what potential will arise from a room price increase.
If the demand increases, thus also the conversion rises and more from the price potential is affected.
Price suggestions are based on calculations and algorithms that analyze the booking behavior and can make statements about prices a long time in advance. This not only helps the hotelier to optimize room prices, which he can change at any time, but also gives him a better overview of his KPIs.
happyhotel's main concern is to prepare the data and analysis in an easily understandable way for a fast data collection. A quick look into the tool helps to get a holistic overview of the most important KPIs in the hotel industry.
What makes happyhotel unique?
Besides the preparation of the KPIs and a holistic insight into the numbers, happyhotel convinces with its Freemium Rate for the analysis area. So connect your apaleo account with your new happyhotel account now and get all analyses for free.
This includes exact analysis of Pickup, ADR, RevPar, Occupancy, Occupancy Rates and Turnover.
The special feature: all your data is transferred to happyhotel during the registration process - so you also have insight into your past data.
In addition to the detailed analysis area, happyhotel shows the pickup data in a calendar. So you can see all bookings in the form of a cohort analysis and can analyze for which period and how long in advance the guests have booked an overnight stay. The calendar is dynamic and you have an easy to understand control of the pickup data.
Price suggestions are also included here in order to be able to react to high demand. The price calculations are based on your own data and how your guests behave.
The exclusive price suggestions are based on your workload, events, current demand and booking speed.
Only in the second step will market data be taken into account.
happyhotel thus calculates the demand and presents price recommendations with the highest RevPar.
If you confirm the price suggestions in happyhotel, these new prices will be immediately transferred to apaleo. This means that the prices will be changed automatically when price changes occur. Therefore you do not have to transfer data from happyhotel to your PMS. Apaleo recognizes a price change immediately and takes it over.
Of course you also have an influence on the price changes. You can basically define in the tool happyhotel what your minimum and maximum price per night is. So you have control and can trust the calculation of happyhotel.
How does the integration from happyhotel to apaleo work?
First you need an account at apaleo. You should also have an account at happyhotel. Here you can create a free happyhotel account.
If this is the case, you can easily combine both tools. In the first step you can log in at happyhotel. Then click on Settings and then Integrations. Select apaleo here.
Now you have to log in to apaleo and your happyhotel account is connected to your apaleo account.
If you don't have a happyhotel account yet, you can create a happyhotel account here, which will be filled immediately with the live data from the apaleo PMS.
What makes the integration of apaleo and happyhotel so unique?
Free Pick-Up Report from happyhotel
Especially interesting is the Freemium tariff, which includes the revolutionary Pick-Up Report. With the Pick-Up Report, you save yourself time-consuming Excel lists for maintaining booking data and you can quickly find periods with strong bookings or weak bookings. No complicated integrations or setups are needed to start for the registration of happyhotel. For you as an apaleo customer it is sufficient to register with happyhotel via apaleo. This works with a few clicks and you can see your data, even from the past, directly in happyhotel.
At the same time, happyhotel passes the new price suggestions to apaleo so that you can get more out of your room prices.
Use happyhotel directly in apaleo
happyhotel is the ideal complement to apaleo. Furthermore, you can serve happyhotel directly in apaleo. After linking happyhotel and apaleo, you can open happyhotel directly in apaleo. Just go to the navigation in apaleo under Reports and then happyhotel.
Why do hoteliers benefit from the cooperation between apaleo and happyhotel?
By connecting apaleo and happyhotel you as a hotelier benefit twice. Because with apaleo you have a modern and uncomplicated open cloud platform at your disposal, which you can extend with happyhotel with an analysis tool and a revenue management system. You will receive automated price suggestions and thereby optimize your room prices.
In no time, you can manage your hotel and increase your revenues of tomorrow - thanks to the innovative API interface of apaleo.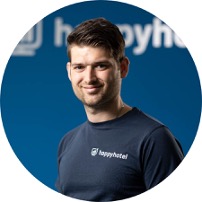 Posted by
Sebastian Kuhnhardt
As the COO and Co-Founder of happyhotel, Sebastian is the idea-driver and brings knowledge of the hotel industry to the company.