CRM in the hotel industry has developed into a dead end. The simple reason for it is the wrong strategy; the misconception is that a CRM should focus on "Marketing". This preconceived notion therefore represents just another siloed system. Marketing capabilities are only a narrow category that has a high importance. The focus should rather be on a central guest data management, which is all about using data profitably.
The goal is to set the focus of the entire company on the customer, tailoring its services to its own core target group and individualising service and communication. Everything that refers to a mass of customers should be replaced by individuality. Some might say "that's exactly what CRM is", but I can only agree if the "M" stands for a management solution rather than marketing.
"Central Data Management (CDM) is the next evolutionary step in marketing and CRM."
So, CRM is not just marketing, CRM stands for Customer Relationship Management and it consists of three components. A real CRM consists of CRM (Marketing), CRO (Operations) and CRA (Analytics). As mentioned above, a company's CRM approach should not only refer to marketing. Especially and, in particular the operative side must benefit from a CRM and create positive service experiences along the entire customer journey.
The 7 P's of service marketing (Product, Price, Place, Promotion, People, Processes, Physical Evidence) must be put into practice and modern data management is the way to get there. That's why Central Data Management (CDM) is the next evolutionary step in marketing and CRM.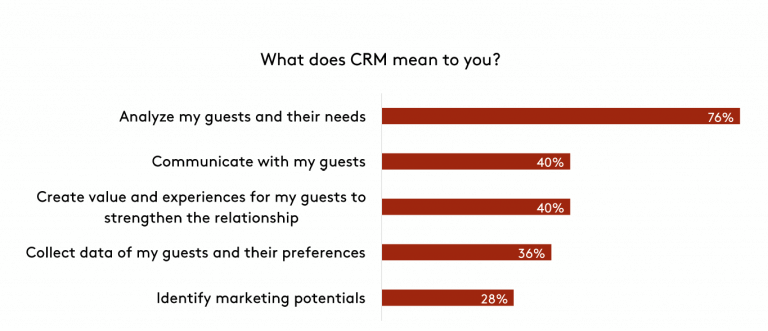 htc Global CRM and Data Management Study, p.24 Düsseldorf, 2019
Besides that, management decisions should be positively influenced through better analytics. Today Artificial Intelligence plays a significant role to transform data into customer insights. But back to CRO, to the operations, this requires a deep two-way integration of CRM and PMS (Property Management System) since many processes on site still rely on the data in the PMS. dailypoint™ offers perhaps the most complex interfaces to all leading PMSs on the market. This means not only that the profiles get cleansed, it also means that PMS users have access to a Central Profile and deep customer insights like never before. In contrast to other CRM providers, dailypoint™ is not a marketing data silo. A CR-Marketing system which sits within the marketing department, limits the possible benefits of Big Data extremely! The positive effects on the service level or improving management decisions is marginal.
"At the heart of modern data management you find a central guest profile"
dailypoint™'s philosophy and Central Data Management approach means that all data should be available everywhere, across all departments and all systems. Therefore a main focus is to bring the central, cleansed and consolidated information sitting on the Central Profile back to the PMS for better services and guest recognition. To push the service level and leverage from a Central Profile also implies that hundreds or thousands of users should have access to the information. Therefore, it does not charge any licenses. One of our customers has over 2,000 users and doesn't pay any more for those users than if it had only one. But how to manage many users in a multi-system IT environment? We've also taken the administrative burden out of the equation with a module which allows a Single Sign-On (SSO) procedure. If, for example, a user is created or deleted from the PMS, this can be automatically transferred to dailypoint™.
dailypoint™ offers the most sophisticated Data Cleaning processes and special artificial intelligence (AI) to create a Central Profile which is running above all systems in a hotel. It is important to understand, that data cleansing is the key to success. Hotels can only leverage from digitalization to its full extend, if data is consolidated, cleansed and centrally available. This is the key competence.
It is not enough to cleanse and merge PMS and e-mail data. Other essential data sources are the POS-systems, the table reservation system, the feedback management, the hotel website and last but not least the WiFi. dailypoint™ offers a unique data cleansing process in over 350 steps with the Data Laundry, which automatically cleanses data from any number of sources. Only those who are able to merge their data sources into a central guest profile can subsequently build up comprehensive guest knowledge using AI (artificial intelligence). For this purpose, dailypoint™ provides the profile engine which automatically converts data into guest knowledge through machine learning.
Hotels today have about 30 profiles along the customer journey for one and the same guest. This makes an intelligent use of data impossible and prevents the hotel industry from benefiting sustainably from digitalization and Big Data. With CDM, the central and above all complete guest profile is available in one place.
"CDM is the leading system, all other systems should be subordinated!"
Over the last few years, we have developed what is probably the most comprehensive platform for Central Data Management. It is an open platform, also available as middleware, which connects and integrates systems. The own modules are complemented by a growing marketplace with 130 best-of-breed solutions, which also want to use the central guest profile for their applications. Any system can be connected quickly and easily via the open interface. Beside 15 own modules, dailypointTM offers an open API on the OTA standard plus interfaces to all leading software systems.
"apaleo is a cloud platform which is very different to the common PMS solutions. Their approach to target the industry makes it very different and makes it a very interesting partner!"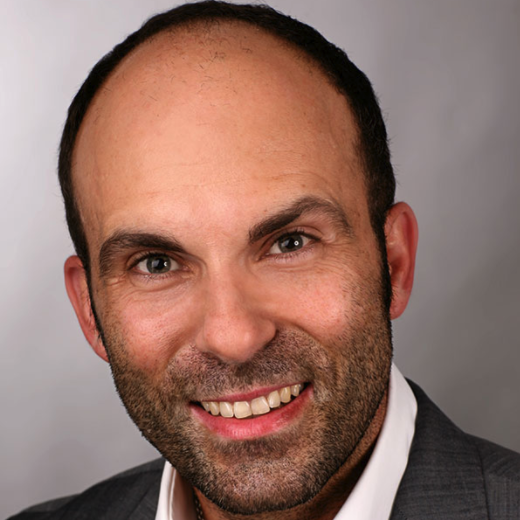 Posted by
Dr. Michael Toedt
Dr. Michael Toedt is one of the most renowned experts in the field of Big Data and CRM. In 2005 he founded Toedt, Dr. Selk & Coll. GmbH. Since then TS&C, now known as dailypoint™, has made a name for itself as a software company and think tank for data-driven management.