Until recently, the concept of Contactless in the field of hospitality was an unimaginable topic.
Due to the recent global pandemic, hoteliers had to start looking for new ways to revive the business, how to make clients confident about their stays, how to create a safe environment, and at the same time how to remain profitable?
The idea of ​​contactless processes seems to be a very sensible choice. MyStay and apaleo have created opportunities for hoteliers to facilitate processes, not only for hotels but also for the guests themselves. Innovation, contactless, automation, and digitization are becoming the new trending words of communication in hospitality.
Touchless processes and digitization at the reception? YES!
It may sound very unrealistic, as hotels are always dependent on personal communication, especially at the reception, but have you ever realized that the reception staff devotes 80% of their time to the administration associated with guest registrations or ordering services instead of face-to-face communicating with the guest?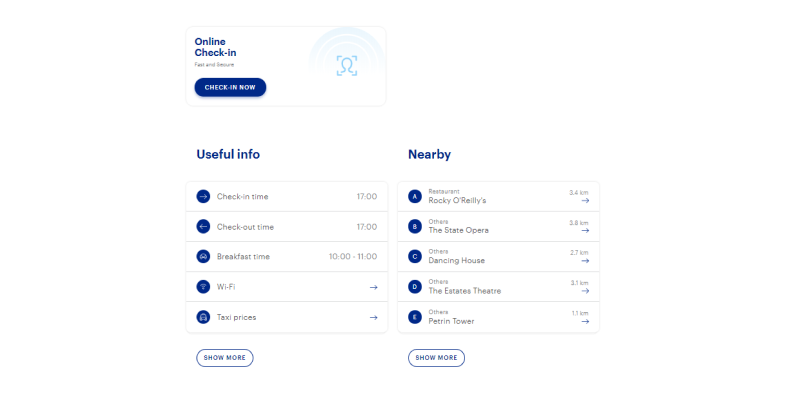 Contactless MyStay, connects hotels with guests immediately after booking. What does it mean? The reception can welcome the guest with an email or SMS to fill out the registration card and additionally promote the hotel services. During the face-to-face check-in, the reception can actually talk to the guest about their journey, recommend activities or services based on guest preferences, or can offer a welcome drink and make a great first impression upon arrival.
Contactless communication and online check-in - this is what 90% post-lockdown guests request
Don't worry about front desk processes being replaced by a tool. In most cases during the guest journey, hotels only have a few chances to communicate with guests face-to-face before arrival, when on-site, or after the stay. When they do have the chance to speak, then guests have to come to the reception. Why not do that for administrative processes?
The functionality of automated communication comes in the form of SMS or email. A hotel can address guests with welcome content, information about parking, hotel location, check-in time or the up-sell and promotion of hotel services or the check-in form itself at various times (pre-stay, during, or post-stay).

The check-in form or the information that is required to be collected about the guest is a standard that no accommodation facility can do without. However, it doesn't need to be filled out at the check-in counter. It's possible for hotels to send the registration form directly to the guest via sms or email and then allow the guest to complete their data and sent it directly to the hotel before arrival. This means that check-in can take less than a minute at the hotel, which can reduce those unpopular queues at the reception. MyStay has this functionality and hotels can use it very easily.
Safety first, money second
The future is unclear. Borders for tourists from much of the world are closed, business is now being conducted through online conference calls, and reservations for October and November are at an all-time low.
No wonder guests need to feel safe. Hotels should have the ability to easily inform their guests in advance about the most up-to-date COVID-19 rules that apply in the hotel (consequently helping the hotel build trust).
As an example, the hotel can also help their guest navigate directly to the hotel or another destination using the online maps, which reduces the need for physical map sharing by a hotel receptionist or concierge. There is also a unique opportunity to send guests promotions for relevant services prior to their arrival, which can be extremely relevant for uneasy and cautious travelers, that are willing to spend extra for services that protect their health.
Also, thanks to the online up-sell opportunities, the hotel is able to promote these services and activities to the guest, directly on the guest's phone, tablet, or PC.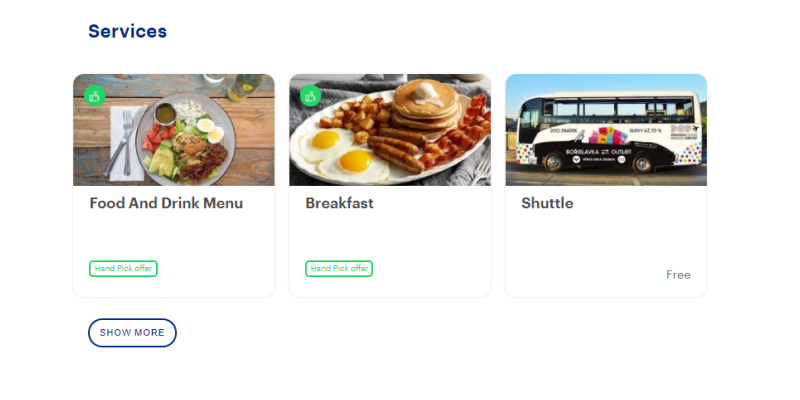 This enables them to make the right offer at the right time: including services before check-in - parking, transfer, room upgrade, early check-in; any extra services on-site; including late checkout, return shuttle; or partner services or additional hotel amenities.
Guests can check their own preferences which enable more custom offers to be displayed accordingly. Our research shows that 75% of people who checked-in online ordered an upsell service when it was presented to them.
Thanks to the visuals and descriptions of services, transparent pricing and discounts, hotels can easily supplement their revenue, especially with lower occupancy.
Decisions are now last minutes
At the hotel, checkout is often delayed, especially by editing the final invoices to new billing addresses, printing a signature based on the file, etc.
With pre-checkout, a guest can check the bill before departure from the comfort of their cozy bed or during their last yummy breakfast. This lets them have a look at whether everything was in order or empower them to m

ake changes to the bill online: creating separate invoices, splitting things between multiple people, adding the bar consummation, reporting a mistake, or processing their payment online. All that's left is the last smile and warm goodbye. The receptionist is freed up to ask if everything was all right and guide the guest to their ride waiting outside.
Integrate with apaleo in less than 30 minutes
We got great news for you: MyStay has a two-way integration with apaleo's PMS, meaning automated synchronization of your guest data to all of the MyStay features is seamless: pre-arrival communication, contactless check-in, online concierge & room services, and pre-checkout. No more copy & paste or lost data! Many other PMS integrations impose various limitations, but with apaleo, MyStay integrates with every touchpoint. Apart from being able to read all guest reservation data for the main guest, MyStay can also get the same information about the additional guests on the same reservation. That makes it easy for MyStay to communicate with any of the guests, both to provide information and increase the adoption of the digital check-in form (registration card). From the other side, the integration makes sure to automatically update the guest reservation cards inside the PMS with all details provided by guests pre-check-in information, enabling more personalization of all the additional services that are offered. Thanks to this, staff at the reception are free to pay full attention to the guest (saving approx. 3 minutes to process each check-in at the reception).
MyStay and apaleo are working further on enhancing the integration so that during pre-checkout, guests could be shown the bill, be allowed to split it, add minibar items and order late check out - all while this information will be written back to the apaleo's PMS. Another step in enhancing the integration is related to service orders that occur during the stay. Soon, these will be written back to the PMS as soon as any order gets completed (today only visible in MyStay admin portal), plus much more that works from behind the scenes.
To sum it up, apaleo focuses on the back office and operational aspects of hotel management, allowing MyStay to focus on the customer experience. Our guest-facing features, mixed with apaleo's rich and easy to use open API, present the unique opportunity to create a best-in-class hotel management solution. Combining apaleo and MyStay creates a mix that covers the whole guest journey.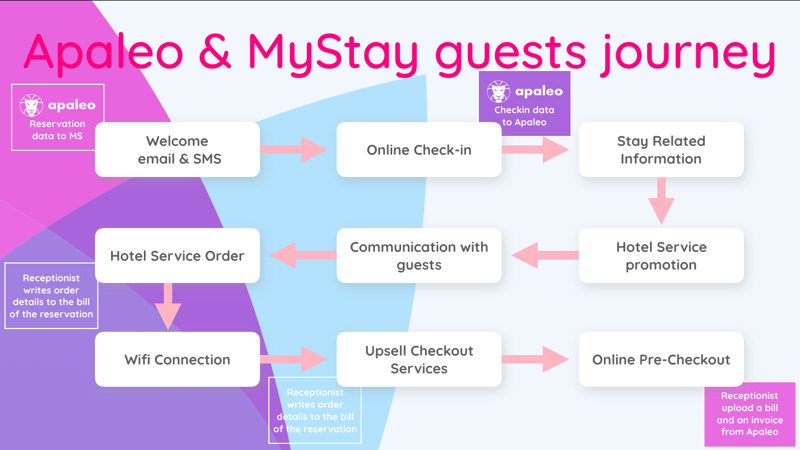 We are proud that MyStay was chosen by the United Nations World Tourism Organization (UNWTO) supported by the World Health Organization (WHO) as the most complete worldwide solution to mitigate COVID-19's impact on tourism.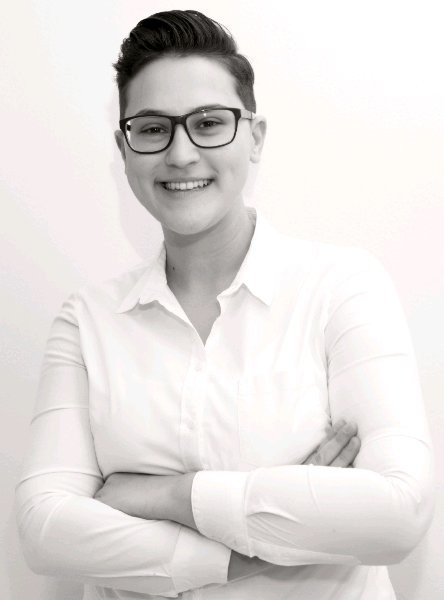 Posted by
Marianna Víghová
Marianna has been connected to the world of hospitality for a long time. She started to learn the trade and understand the business in a 4-star hotel in Prague, but over time, I decided to head for a journey closer to hotels than guests. As a hotel partnership manager, she got to know various types of accommodation facilities, learned to work with the client's requirements, and also to be a helper and educator. Now, as a Key Account Manager at MyStay, she is applying her previous experience while also learning new things.