New partnership allows hotels to improve the digital guest journey all within their favorite messaging app, without losing any of the data in the PMS
Standard check-in at the reception is so passé. Guests want better, more efficient ways to check-in to and communicate with their favorite hotels. apaleo, the world's most open PMS and messaging platform, EasyWay, have partnered to make that all possible without losing key PMS data.
In Berlin this week, the companies demonstrated how checking-in works via WhatsApp, with data pushed directly to the apaleo PMS in real-time. This is only possible using apaleo's API-first approach, which allows all data to be fully accessible, fully open, and fully integrateable.
"We are thrilled to show off how seamlessly connected technology can make the guest journey so much better. Apaleo's API-first platform made building this showcase a cinch. We had it all running in a couple of days, with check-in and reservation going directly into the apaleo PMS," said Roy Friedman, CEO and Founder of EasyWay.
"We initially had the idea to build this showcase only a few days before ITB, so there was a bit of time pressure on the project," said Benjamin Schmid, co-founder of apaleo. "But thanks to the innovative team and technology powering these companies, we made it happen ahead of schedule!"
For hotels that really want to take guest communication to the next level, EasyWay's entire messaging platform is already available in the apaleo store, along with hundreds of other innovative apps across categories like revenue management, BI/analytics, channel management, and more.
…And for those who missed the demo in Berlin, get in touch for a peek.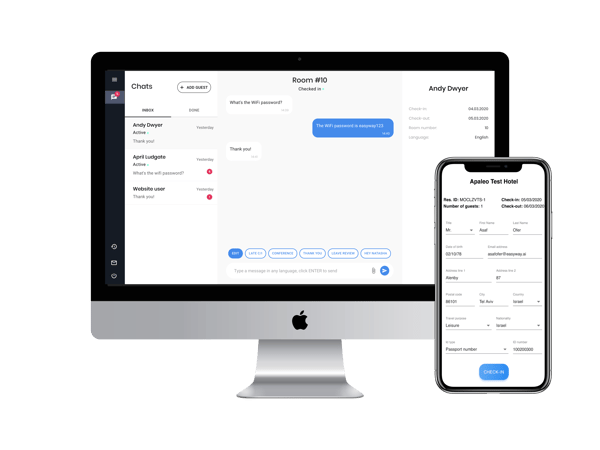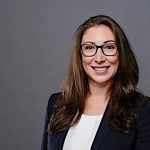 Posted by
Margaret Ady
Margaret is a leading industry voice. She's no stranger to travel tech startups, having led marketing for Berlin-based SnapShot, and prior to that, for TrustYou. And, she's been recognized for it. In 2016, she was awarded HSMAI Europe's Top 20 Extraordinary Minds in Sales, Marketing and Technology. Before joining the hospitality technology scene, Margaret held leadership roles at The Walt Disney Company and The Oprah Winfrey Network. Margaret has also provided research, branding and marketing consulting services to many companies, including 20th Television (Fox), Nielsen and Red Bull. She graduated from the University of Southern California (go Trojans!) with degrees in Economics and Psychology and a focus in business. During her studies, she was awarded the USC Annenberg Communications Critical Pathway Grant for her research in new technology and its impact on healthcare decision-making.