1. Automated Cleaning Schedules
The bigger the property, the more time it takes to make daily cleaning schedules for housekeeping. In an average-sized property, the process can take up to 1 hour every morning. The reason is that housekeeping managers have to find the right balance between hundreds of different room types, occupancy levels, varying numbers of guests and the daily cleaning needs. After keeping all of this in mind, they then assign all of the rooms equally to housekeepers.
What is a complicated task for a person is a simple task for modern housekeeping software. It completely eliminates the need for manual assigning rooms. Instead, managers just have to review the schedule and tap 'assign'.
2. Door Lock & Smart Room System Integration
Integrate a door lock and/or smart room system with housekeeping software to optimize housekeeping in various ways:
Housekeepers always know if a guest is in the room. With Covid, it became crucial to avoid physical contact with guests. Remember the classic greeting "Knock, knock, Housekeeping"? With such an integrated system, it is a thing of the past.
It shows housekeepers which rooms have a DND status without them losing time by having to walk to the rooms just to collect such basic information.
Housekeepers immediately receive guest requests such as "Extra cleaning" directly to their smartphones which enables them to deliver service much faster.
Housekeepers can plan their day in an optimal way since they know exactly which room to go clean next.
3. Automated Daily Communication Between Housekeepers
When cleaning hotel rooms, housekeepers have to report many details. These details can be regarding the count of laundry items such as linens changes and towels. Or housekeepers need to report minibar consumption, potential maintenance problems, and small room inventory that was used such as shampoo, coffee etc. Not to mention, misplaced items that need to be tracked in lost and found. But ultimately, housekeepers have to report room cleanliness.
If each room had only 1 piece of information from all the above categories, a 100-room property would result in a minimum of 500 pieces of information that need to be exchanged between housekeepers daily. If we count in room inspections, extra tasks and other daily information, the number goes into the thousands.

Housekeeping software is essential because it gives housekeepers all daily tasks and updates instantly without having to call, search for it, or lose time in any other way. It allows every housekeeper to better organise and plan their day without surprises. This results in more time saved, a higher quality of work, and less stress for housekeepers.
4. Digital Checklists
What is the single most important quality control measure in housekeeping? Room inspections conducted using checklists. And the single most important optimisation is digitizing them, because digital checklists:
Generate and distribute automated tasks to responsible housekeepers when something needs attention
Provide analytics about quality patterns
Provide accountability
Are essential for staff training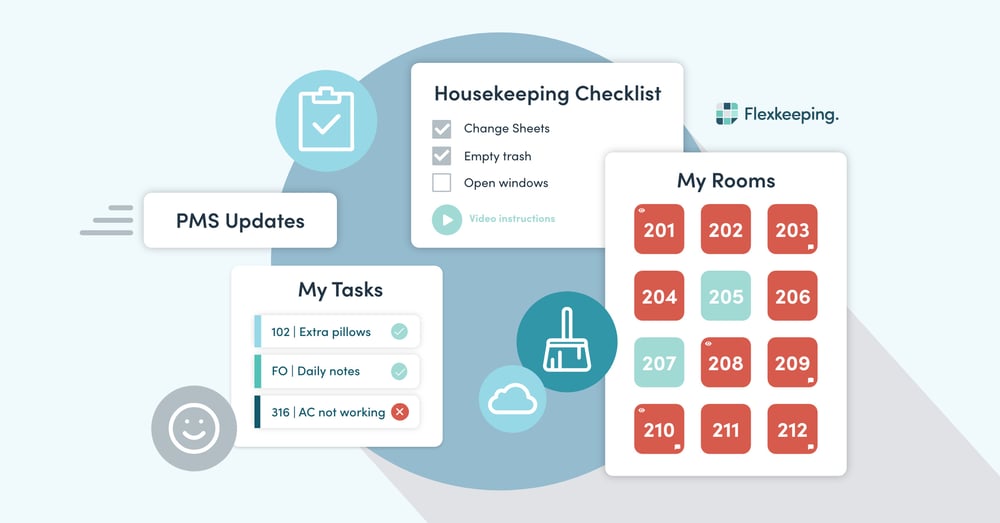 5. Housekeeping <-> Maintenance Automation
On average, a 200-room property records over 500 maintenance tickets every month. The best way to optimise communication between maintenance and housekeeping is to use a Housekeeping & Maintenance software.
For housekeepers, it allows them to simply take photos and send the tickets to maintenance. For maintenance, when a maintenance ticket is finished the software automatically puts a room on the list for cleaning with the exact information about the type or maintenance issue that has been fixed. It is another simple example that is easy to implement, but delivers huge savings in terms of time and cost.
6. PMS <-> Housekeeping Software Integration
If you are looking for a hotel software with one of the best ROI, look no further than an integration between housekeeping and apaleo. This feeds the Housekeeping software all the daily information about ongoing check-outs, expected check-ins, guest details, their length of stay, and any potential service preferences. It provides the backbone data to automate daily housekeeping operations. The connection is simple and can be done directly from the apaleo app store.
In addition, housekeeping software is equally important for the PMS software and front office operations. Housekeeping software provides a detailed and real-time view into the back off house daily operations. You cannot check in a guest if you are not 100% sure that the room is flawless. And you also cannot cut queues at the front desk if you don't receive real-time updates from housekeeping. It's a win-win-win situation for the PMS and housekeeping software, but ultimately, for the hotel.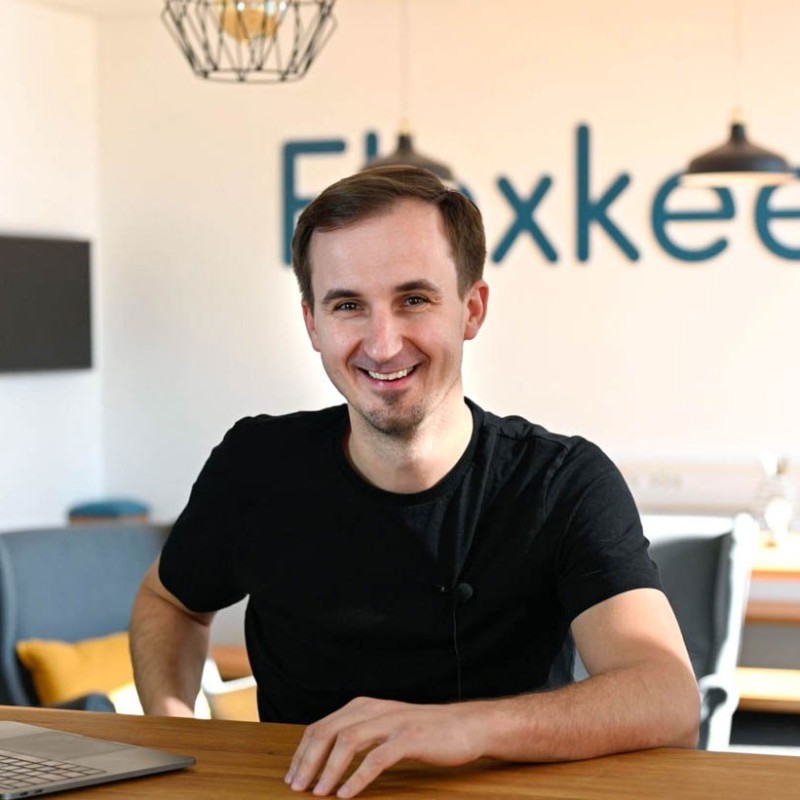 Posted by
Luka Berger
Luka is the founder and CEO of Flexkeeping, a hotel housekeeping and staff collaboration software. Combining his experience from working as a housekeeper, ongoing enthusiasm for tech, and a passion for hospitality, he takes an active role in discussions regarding the future of tech in the hospitality industry.